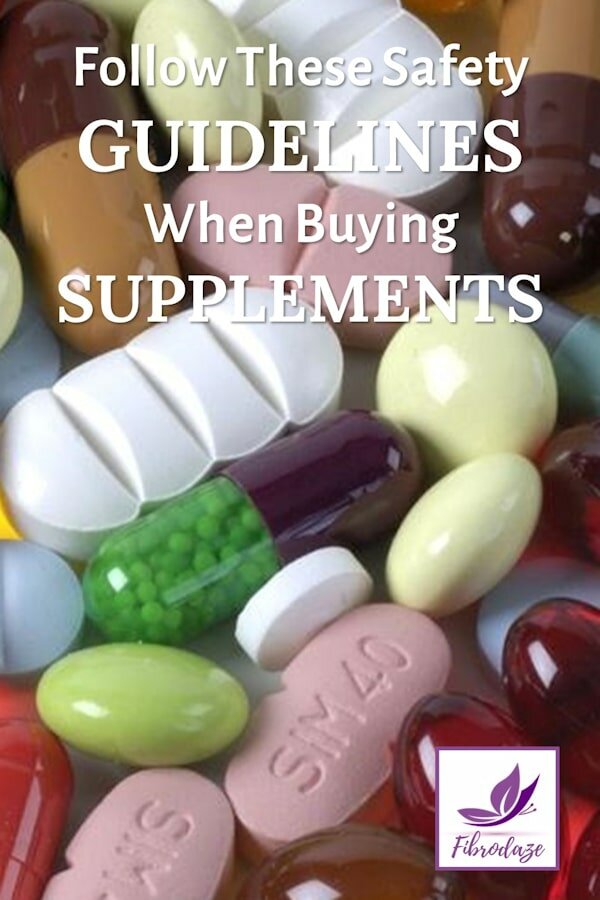 Dietary supplements can be a powerful tool in your fibromyalgia treatment plan. They can help boost your energy, improve sleep, and reverse some of the nutritional deficiencies that make fibromyalgia symptoms worse. But, when it comes to buying supplements (including vitamins, minerals, and herbs), the phrase "buyer beware" holds true.

Many of the supplements we buy are not what they seem. Some are neither safe nor effective. Some can even be deadly.
The Dr. Oz Show investigated some popular supplements on the market. ConsumerLab.com (the consumer watchdog organization) did the testing. Many supplements failed testing because they either didn't contain the promised amount of active ingredient or were contaminated with harmful substances.
On another Dr. Oz Show, 5 weight-loss supplements were sent for lab testing. All 5 tested positive for an ingredient that was banned because it caused heart attacks, strokes, and seizures.
ConsumerLab.com independently tested 29 of the leading multivitamin and multi-mineral products. Eight products did not meet claims stated on their label, while another 12 provided levels that were too high for healthy people.
Safety Guidelines For Buying Supplements
The U.S. Food and Drug Administration (FDA) issued a set of requirements (Good Manufacturing Practices) by which dietary supplements must be manufactured, prepared, and stored to ensure quality. Manufacturers are expected to guarantee the identity, purity, strength, and composition of their dietary supplements.
The label of a dietary supplement product is required to be truthful and not misleading. However, dietary supplements are not required by federal law to be tested for safety and effectiveness before they are marketed.
If you're thinking about or currently using a dietary supplement, here are some points to keep in mind.
Talk to your doctor or pharmacist. Some supplements can cause serious side effects when mixed with prescription and over-the-counter drugs. Your doctor or pharmacist can inform you about any possible interactions.
Buy supplements that have been third-party tested and verified. A "seal of approval" from an independent certification program ensures the quality, purity and potency of the product. Three organizations that provide independent testing and verification services are United States Pharmacopeia (USP), NSF International and ConsumerLab.com.

Check the Dietary Supplement Label Database. The database, which is available on the National Institute of Health's website, has information on the ingredients for thousands of dietary supplements sold in the United States. You can look up products by brand name, uses, active ingredient or manufacturer.
Check for alerts and advisories. Supplement manufacturers or distributors are required to report all serious adverse events to the FDA. The U.S. Food and Drug Administration (FDA) and the National Center for Complementary and Alternative Medicine (NCCAM) maintain lists of supplements that are under review or that have been reported to cause adverse effects.
Be cautious about supplements manufactured outside the United States. Products from some European countries are highly regulated and standardized. But toxic ingredients and prescription drugs have been found in supplements manufactured elsewhere, specifically China, India and Mexico.
It is estimated that two-thirds of Americans take dietary supplements. With so many of us taking supplements, there are many responsible companies manufacturing safe, high-quality dietary supplements. But, there are also unscrupulous companies that do not follow FDA regulations.
When buying supplements, it is extremely important we seek out brands that are trustworthy. That's why I recommend Swanson Vitamins. Their vitamins and supplements are affordable and tested for purity and potency.
Here are some links to help you find more information about safe dietary supplements.
Conclusion
Supplements are part of many alternative treatments for fibromyalgia. Many chronically ill people are accustomed to taking a variety of supplements. Some supplements can be risky for people on certain medicines or with certain medical conditions. Therefore, they should be taken under the supervision of your doctor.